AMD announces the new CPU names: Bergamo with the name of our city!
AMD Genoa disclosures are that the chip will hit 96 Zen 4 cores and AMD Bergamo is going to be the cloud variant.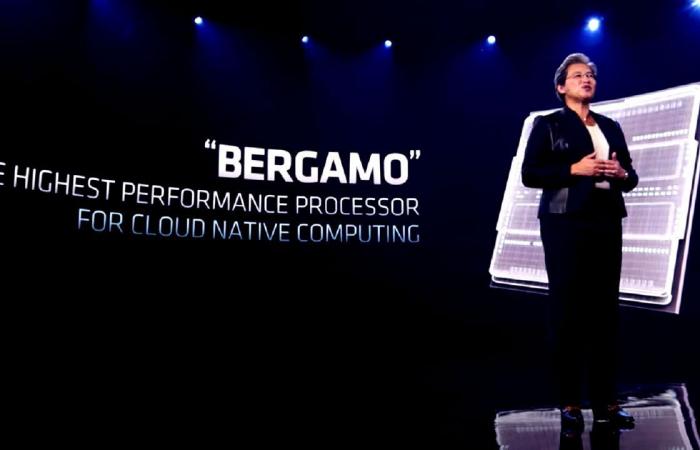 AMD provided new details on the expanded next generation AMD EPYC processors codenamed "Genoa" and "Bergamo."
AMD Genoa and AMD Bergamo
Starting with Genoa, AMD says that 5nm will give it 2x the efficiency and >25% the performance of its 7nm chips. It is using that to add more cores and additional features. Some of the big AMD Genoa disclosures here are that the chip will hit 96 Zen 4 cores, up from 64 today. 50% more cores and silicon improvement sounds like a path to big gains. One also can see that we are getting DDR5 and PCIe Gen5 as expected with Genoa. AMD is also confirming CXL 1.1 support along with new security features. Expect Genoa will need a new socket.
"Zen 4" Powered Data Center, Designed for Leadership Performance
"Genoa" is expected to be the world's highest performance processor for general purpose computing. It will have up to 96 high-performance "Zen 4" cores produced on optimized 5nm technology, and will support the next generation of memory and I/O technologies with DDR5 and PCIe® 5. "Genoa" will also include support for CXL, enabling significant memory expansion capabilities for data center applications. "Genoa" is on track for production and launch in 2022.
"Bergamo" is a high-core count CPU, tailor made for cloud native applications, featuring 128 high performance "Zen 4c" cores. AMD optimized the new "Zen 4c" core for cloud-native computing, tuning the core design for density and increased power efficiency to enable higher core count processors with breakthrough performance per-socket. "Bergamo" comes with all the same software and security features and is socket compatible with "Genoa." "Bergamo" is on track to ship in the first half of 2023.